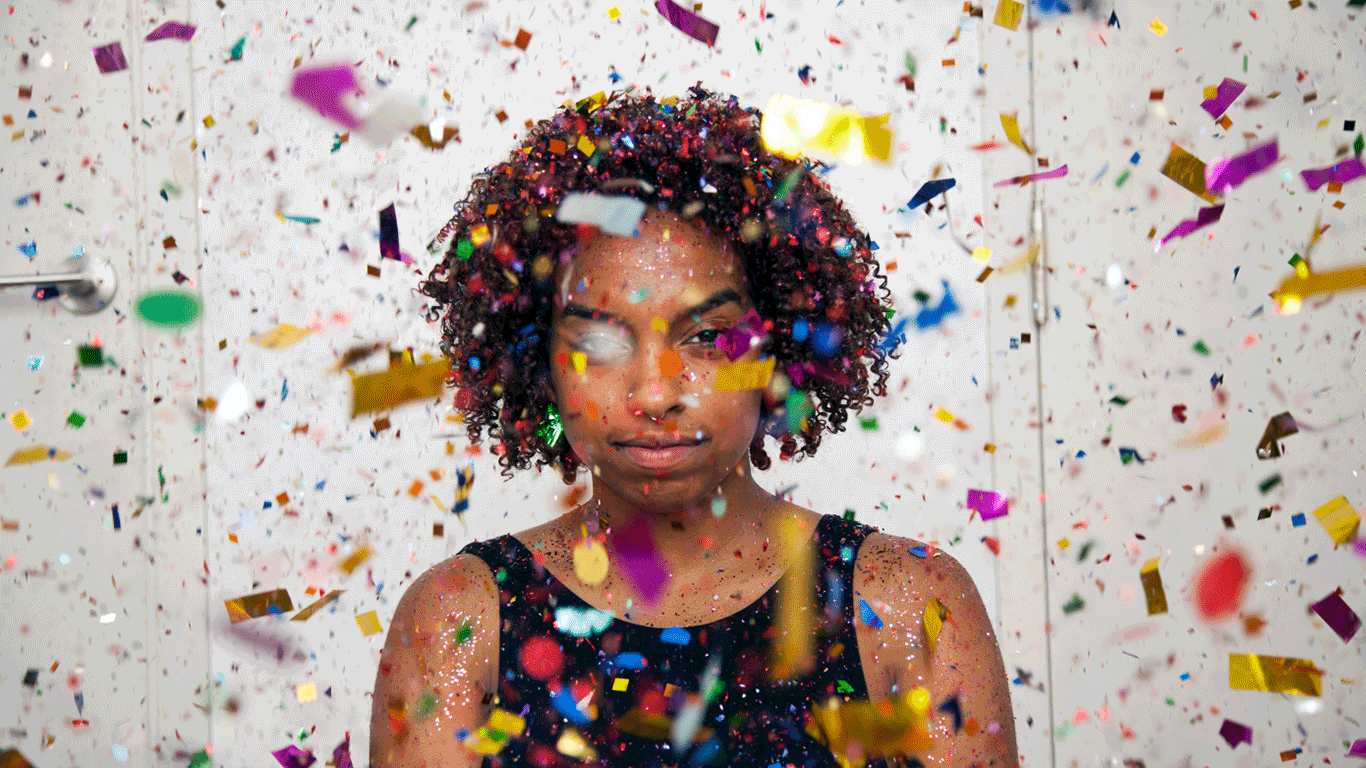 This project was born through a series of seemingly random events that I connected the dots to after leaving my full-time job. First, I got glitter bombed. Then I hoarded confetti into the pockets of my leather jacket after an Ok Go show. Weeks later, I put it on during a sad day and instantly became happy when I found the confetti. In that moment, I realized that these little pieces of paper were both nostalgic and emotive. So I asked: what does confetti even mean? Confetti = celebration. After moving to Brooklyn and being so inspired by all the creatives around me, I began asking others why they do what they do everyday despite all of the universal feelings of frustration, fear and doubt. The answers I was getting were full of depth and honesty so I found myself at a crossroads where I had no idea what I was doing but I knew there was something here that I couldn't not explore. So, this project began as a three-month photography challenge where I invented a series of opportunities for myself that would include doing all the things that I've always wanted to do but was afraid to: become a better photographer, connect with amazing humans, create a coffee table book - and finally finish something for the first time in my life. And I did just that and it was the most empowering feeling as you see what can happen when you put all of your actions, thoughts and behaviors towards one focused goal. Even though I got rejected by an agent for the book, she gave me the most paramount piece of advice: keep going. So, my mission has become to profile as many amazing humans as possible and, two hundred people later, it's still going.
A 3-MONTH photography challenge that started it all.
After compiling every single photo of confetti from the web and asking 50 creative entrepreneur Brooklynites why they got out of bed in the morning, a challenge was born.
Hi! I'm a graphic designer and photographer that douses amazing humans with confetti, exploring what they celebrate in their lives. As a creative entrepreneur with a background in Psychology and Design, I'm always trying to create powerful visual storytelling, which is how The Confetti Project was born. Not only was this project the first thing I ever finished, but it's changed my life in being able to tap into daily gratitude even amidst grieving the loss of a beloved parent. Now, my goal is to deeply connect with as many humans as possible, giving them a space to fully let go from everything and be comfortable being vulnerable. My few loves: coffee table books, 20-second hugs and doing one thing a day that scares me.
Jelena Aleksich
Cancer & Confetti
This is about my two-year journey of dousing 100 people with confetti while losing my father to cancer. By being exposed to those seemingly opposite spaces, I became acquainted with a silver lining, where we all must strive to seek joy in every moment, even amidst challenge because, ultimately, that's all we have. Stay tuned for a bittersweet story about the resilient nature of grief, a beautiful reminder of mortality and finding your own purpose amidst loss.
The debut of the first confetti episode with an ode to my father.